Centres
East Lothian has four Recycling Centres where you can recycle a wide range of items:
Please note: Commercial waste is chargable at all sites. All vans and trailers must bring proof of address. For more information on commercial waste visit: www.eastlothian.gov.uk.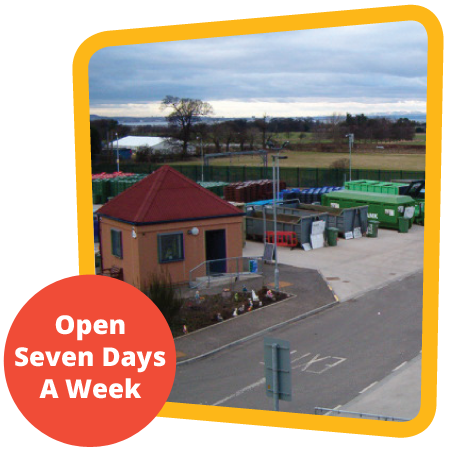 Recycling Centres accept:

Scrap metal
Garden waste
Cardboard
Solid wood
Laminates
Rubble
Soil and turf
Televisions and monitors
Fridges and freezers
Small electrical equipment e.g. kettles, irons, games consoles
Fluorescent tubes and energy saving bulbs
Large electrical appliances e.g. washing machines, cookers
Textiles and shoes
Cooking and engine oil
Car batteries
Gas cylinders
Glass bottles and jars
Paper
Food and drinks cans
Clean aluminium foil and aerosols
Plastic bottles, posts, tubs and trays
Food and drinks cartons
Bicycles
Household chemicals (Macmerry and Kinwegar)
Household batteries
DVDs, CDs, videos, tapes and books
We do not accept food waste, tyres or asbestos at the Recycling Centres.
Opening times
The Recycling Centres are open 7 days a week:
8:30 to 17:00
The recycling centres are closed 25th and 26th December and 1st and 2nd January, and will close at the earlier time of 2pm on Christmas Eve and Hogmanay.
You may be asked for proof of address to access our sites.
Recycling Points
There are over 70 Recycling points across East Lothian where you can recycle glass, cans, paper and textiles.
To find out what you can recycle and where, visit www.recycleforscotland.com.
Commercial vehicles, vans and trailers are restricted to access sites 8.30am – 10.30am. Commercial customers must present their waste carriers licence and recycling permit where applicable when asked.